GUNPLAY of RICK ROSS's TRIPLE C's talks tough, gets knocked the F**K out CHECK THIS OUT XXXCLUSIVE

French cosmetics giant L'Oréal guilty of racial discrimination
L'Oréal, the French cosmetics giant, whose advertising campaigns proclaim "because you're worth it", was found guilty of racial discrimination for considering black, Arab and Asian women unworthy of selling its shampoo.
France's highest court was told that the group had sought an all-white team of sales staff to promote Fructis Style, a haircare product made by Garnier, L'Oréal's beauty division.
The word went out that Garnier's hostesses should be BBR — "bleu, blanc, rouge" — the colours of the French flag. The expression is widely recognised in the French recruitment world as a code for white French people born to white French parents, a court was told, in effect excluding the four million or so members of ethnic minorities in France.
La Cour de Cassation, the equivalent of the US Supreme Court, said that the policy was illegal under French employment law, upholding a ruling given by the Paris Appeal Court in 2007
That image already suffered a battering when L'Oréal executives were forced to deny claims that they had lightened the singer Beyoncé Knowles's skin for a campaign last year. The ruling also hinted at widespread prejudice among French shoppers since L'Oréal believed that they were more likely to buy shampoo from white sales staff, the court was told.
The ruling will fuel anger among black and Arab French people, who complain that they face widespread discrimination when seeking employment.
The court ruled that Adecco, the temporary recruitment agency whose Districom division hired the hostesses, was also guilty of racial discrimination. The Paris Appeal Court had fined both L'Oréal and Adecco €30,000 (£25,500) and ordered them to pay a further €30,000 each in damages to SOS Racisme, the anti-racist campaign group, which brought the case. The court upheld the fines but told the appeal court judges to reconsider the damages.
L'Oréal expressed "disappointment" at the judgment, which ends three years of legal wrangling over the discrimination claims. Adecco declined to comment.
Samuel Thomas, the vice-chairman of SOS Racisme, described the ruling as a "very great victory". He said: "Whatever the size of the company, none is able to escape prosecution."
The court was told that a Districom executive had sent a fax to its headquarters in 2000 saying that Garnier's hostesses should be aged 18 to 22, wear size 38 to 42 clothes (British sizes 8 to 12) and be "BBR".
Prosecutors said that Garnier wanted to exclude members of the ethnic minorities on the ground that they would be less likely to sell its shampoo in French shops. The court was told that only 4.65 per cent of the hostesses hired for Garnier's campaign were black, Asian or Arab.
Before the BBR fax went out, the agency had been offering a pool of candidates in which 38.7 per cent were from ethnic minorities, suggesting that they had been blocked during the final stages of recruitment.
Districom employees said that they were given oral instructions to favour white sales staff. But Thérèse Coulange, the deputy managing director of Districom, who sent the fax, said that she had merely wanted hostesses able to "express themselves correctly in French". She said that the fax had been a personal initiative and not the implementation of company policy.
Laurent Dubois, Garnier's former managing director, told a lower court that he had "never given the slightest order to discriminate against anyone" and described racial prejudice as "foreign to L'Oréal's genes".
Find more videos like this on ThisIs50.com : IF IT'S HOT IT'S HERE!
Posted by 50 Cent on June 27, 2009 at 7:00pm — 50 Cent - "I'm Paranoid" - Track 6 of 12 [Download Link Included] 339 Comments
Posted by 50 Cent on June 26, 2009 at 10:00pmSoulja Boy - "I'm All That" - Hot Or Not? [Download Link Included]
T.I.'s ACTUAL REAL GUNS "OFFICIAL ATF VIDEO"

This is the AUTHENTIC ATF Video shot days after his arrests. The ATF made the guns available for viewing to a select chosen few. These are the actual guns involved in the case of Clifford Harris ...

JR Writer Robbed!WOOW ROB REPORT BY.G-FLY ENT


Looks like J.R. Writer got his chain taken from him. This viewer reports "A WARNING TO ALL VIOLATORS: WATCH URSELF IN THE BRONX"


Jr Writer Responds to Chain Snatchers(Plus Max B Diss FLYBOYZENT.NET


Here's J.R. Writer's response to that "Old" footage thats buzzing online. Plus Max B Diss. Uh Oh

JAY-Z D.O.A DEATH OF THE AUTOTUNE*(NEW)
"Only rapper to re-write history without a pen/No I.D. on the track let the story begin, begin, begin/This is anti-autotune/Death of the ringtone/This ain't for iTunes/This ain't for sing-a-longs/This is [Frank] Sinatra at the opera/Bring a blonde, preferably with a fat a** who can sing a song/Wrong, this ain't politically correct/This might offend my political connects/My raps don't have melodies...May get your chain token/May do it myself, I'm so Brooklyn/I know we facin' a recession, but the music y'all makin' gon' make it the Great Depression/Or your lack of aggression/Pull your skirt back down...This ain't a No. 1 record/This is practically assault with a deadly weapon/I made this just for Flex and Mister Cee, I want people to feel threatened."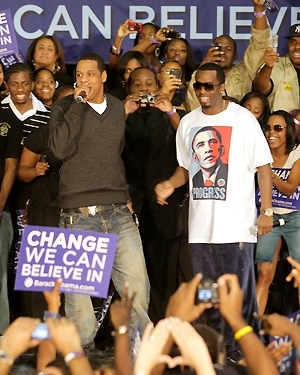 Jay-Z Addresses European Controversy
May 13th, 2008 | Author: ------
Maintaining his composure and addressing the recent comments bashing his presence at the upcoming Glastonbury festival, Jay-Z justified being the headliner of the typically rock-based event.
Responding to criticism from Oasis' Noel Gallagher, including his comment of Hip Hop as "not suitable" for the festival, Jay-Z acknowledged the difference in music genres but felt Hip Hop has earned it's spot.
"We don't play guitars, Noel, but Hip Hop has put in its work like any other form of music. This headline show is just a natural progression. Rap music is still evolving," the Brooklyn entrepreneur told The Sun.
Continuing his justification for being named as a headliner, Jay placed himself in the growth of Hip Hop, pointing out significant artists whom have had a large impact upon the genre.
"From Afrika Bambaataa [playing] in the Bronx and Run DMC going platinum, to Jazzy Jeff and the Fresh Prince winning the first rap Grammy, I'm just next in line," he added.
Rather than throwing any negative comments towards Gallagher or placing Hip Hop over his genre, Jay admitted the best solution is to appreciate one another's music.
"We have to respect each other's genre of music and move forward," he said.
Despite the amount of attention the controversy has created, Jay continued to show off his entrepreneur and marketing mastery as he admitted the amount excitement it has created for himself.
"I've never ever had a show that's caused this much of a stir—I'm really looking forward to it," he concluded.
As of now, Jay-Z still remains the headliner for the upcoming Glastonbury festival on June 28th.
After a highly publicized falling out, The Diplomats and estranged member Cam'ron [click to read] may be on the verge of reconciling.
In a recent interview with MTV, Cam revealed that during a routine phone call to Freekey Zeekey led to a brief chat with Jim Jones.
"Everybody has been reaching out. I've been the one kinda saying Cam is going to take time do Cam," he said. "But Hell Rell and J.R. [Writer] definitely been reaching out. I called [Freekey Zekey's] phone four or five days ago and Jim picked up Zeke's phone. Me and him spoke for about 10 or 15 minutes, but me and Zeke speak all the time. I haven't spoken to Juelz [Santana]."
The former head of the crew that dominated the mix tape scene in the early part of the decade described the conversation with Jones as "cordial" and hinted at a possible reunion of sorts sometime down the line.
"It was cordial. He knew it was me," Cam'ron said of the conversation. "He said we was gonna holla — maybe we'll put something together. But in the immediate future, I'm just doing Cam. But you never know what can happen down the line. I called Zeke's phone and I guess Zeke gave Jim the phone to pick up. We just talked, asked about each other's family. He said he's on a promo tour. He'd be back soon. That was that."

Though Cam'ron hasn't ruled out an on stage reunion with his former crew, he also revealed that for the time being, he's just doing him.
"You never could say never. Right now, I'm kinda like in Cam zone. They been doing what they been doing for the past two or three years, but I'm kinda in Cam zone. But you never could say what could happen in the future. Right now I'm kinda in the Cam mind frame."
Jim Jones: Above The Clouds
Who is Jim Jones? That's a question this week's release of Jones' fourth solo effort, Pray IV Reign, next week's five-day run of the theatrical production based on the album, Hip Hop Monologues, and next month's unveiling of a new documentary film detailing Joseph Guillermo Jones' rise to rap stardom, This Is Jim Jones, all seem to be working in coordination to answer for fans who are still getting to know Jim Jones after a few short years as a solo artist, and for those still scratching their head trying to figure out how Cam'ron's onetime Lieutenant became the Captain of their now fractured Diplomats crew. Much like his forthcoming bio-doc can show to some a sympathetic figure - someone who survived growing up in the projects in a family plagued by drug addiction and AIDs to reach the heights of Hip Hop success – and to others the very walking, talking definition of what is wrong with contemporary get-money-at-all-costs Hip Hop, the "Dipset Capo's" recent discussion with HipHopDX seemed to simultaneously reveal the good and bad sides of Jim Jones. An emcee who to some possesses one of the most uninspired flows in the history of Hip Hop (who openly acknowledged during his discussion with DX that he believes business acumen should supersede skill on the mic) is to others an authentic, simple-and-to-the-point street narrator inspiring those that are struggling like he once struggled to grind towards the good life that has been shamelessly showcased in Jones' two biggest hits, "We Fly High" (a.k.a. "Ballin'!!!!") and "Pop Champagne." But whether revered or reviled, Jones is clearly an impressive hustler to anybody with eyes to see. In addition to albums, movies and books, he even has a workout DVD on his '09 itinerary ["I been a fan of getting in shape for some time now," Jim told DX]. But sometimes the Harlem hustler's incessant drive to achieve more has created unintended consequences. And while speaking with DX, Jones candidly conceded that his "52 fake out" strategy to make he and Cam'ron both bigger and richer stars backfired. Jimmy also addressed recent allegations of bad business on both he and Cam's parts, explained why he pulled Rick Rubin crafted tracks from his new album, what role Dame Dash has in Capo's business endeavors, and most importantly who the real Jim Jones is. HipHopDX: Let's start off on a different note. I wanna ask you about your appearance on Pete Rock's NY's Finest album last year. What did working with a legend like Pete mean to you as a fan of Hip Hop? Jim Jones: You know, that was…I actually did a few songs with Pete Rock [click to read]. He did a song on my second album called "G's Up, Hoes Down." Pete Rock got that soulful music, so it's always good to get on a track with Pete Rock. You get your Hip Hop artist credits on when you do a track with Pete. It's considered authentic Hip Hop music, so you know it's always a bonus to be able to do that. DX: You guys got any plans to collaborate more in the future? Jim Jones: I mean, yeah, whenever Pete send me some smokers you know I'm jumping on those, hands down. DX: Now another legendary producer you worked with in the past couple years is Rick Rubin. I saw Rick in the trailer for your This Is Jim Jones documentary, but I didn't see his name in the production credits for the new album. So, what role did Rick play in Pray IV Reign? Jim Jones: Well he gave me a few beats. I recorded [to them]. But you know when you narrow the songs down, they wasn't the strongest records that I felt needed to be on the album – even though they are some strong records. But, in the future [the hope is] that I get to do some more music with big boy. You know, he's a legend. And anytime you get to get to make a move like that it's a gracious thing. [And] shouts to Rick Rubin also for giving me the opportunity to be signed to Columbia and giving me that big deal. He's the one that facilitated that. So that was a great thing. DX: Just out of curiosity, being that Rick basically invented the Rock/Rap hybrid, has he ever said anything to you about your Rock & Roll steez? Did you get the thumbs up from Rick for bringing that Rock style back to Rap? Jim Jones: Definitely. Rick definitely appreciated my whole Rock & Roll/Rap fusion [style] and all that. He was giving me a couple pointers on some hip Rock & Roll [stores] that I needed to be going to. Chrome Hearts was one of them, even though I was already hip to it. But he was just trying to make sure my Rock & Roll was right. DX: You definitely have your own unique swag. In the documentary you say that you're "relative to everybody that's…on the hustle, and on the grind – from all walks of life." Expound a little bit for our readers on what the appeal of Jim Jones is to that wide spectrum of folks. Jim Jones: Well [the] appeal is just the appeal of the working class. If you a hustler… Whether you gotta get it in the streets, or whether you gotta wake up [and work] nine-to-five, it's a constant struggle so you can stay afloat. And some of us [make] good out of it, and we do exceptionally well. But for the most part it all starts with a hustle and a struggle, and that's what I represent. Even though I talk about ballin' all the time, that's 'cause I struggled so much, and that struggle turned into a hustle and the hustle turned into dollars. And I think people [can] respect that 'cause they know that I'm one of the people that literally came from nothing. And I don't hide nothing. Like, everything you see is what you get - as you can see from all the Internet controversy [involving me] that goes on. Continued on page 2 »
COKE WAVE DVD (PART 4).max .b ,frenche jim jones doll june 05 2009

Click here to start typing your text